THE NEW GENERATION CNC LATHE DIGITAL COPIER
RIDI 13 CNC LÁSER BLACK EDITION
RIDI 13 CNC BLACK EDITION
Below you can see a video with the features of RIDI13 CNC Black Edition
Below you can see a video of the operation of the machine Ridi 13 CNC Black Edition
There are several reasons to trust in our company:
In just 30 min you will already know how to turn a tire

Spare parts available in Stock

Excellent Price / Quality ratio
After having compared and analyzed different brands, the conclusion is that with the price and quality that we offer, we are unique in the market.

Original CE of Spain
We are the manufacturers, development and manufacture from the chassis all in Leon. Technical service and spare parts always available. Be careful with machines that do not meet the European standard.
The CE certificate must comply with European regulations. The electrical installation with its components must be approved for European use. Which many machines outside does not comply with.
We comply with all European regulations. Our technicians and programming specialists are all licensed.
The problems come when you have to ask for spare parts or a technical service. BEWARE OF THE SUPPOSED DISTRIBUTORS WHO ANNOUNCE MACHINES AND DO NOT HAVE ABSOLUTELY ANYTHING! REQUIRE A VISIT AND THAT THE MACHINES, TECHNICAL SERVICE OR SPARE PARTS AVAILABLE! THAT DO NOT WORK WITH YOUR MONEY!
We have all the machines available to test and carry from Leon's factory! 100% service Does not need experience of any kind. Latest technology according to industrial revolution 4.0! We carry out training courses in one of the most modern workshops in Europe in Palma de Mallorca.
SERVICE OFFER
REMOTE TECHNICIAN
Offer for all countries! For € 500 / year we can, through remote control, supervise the CNC monthly. Our technicians analyze by means of a software the state of your CNC, checking if the motors do not overheat, the calibration of the sensors, software updates, security systems check or network overloads.
System developed, manufactured with Spanish CE plate and manual in Spanish made in Rimspolish SL & Ditel SL León.
NO PREVIOUS EXPERIENCE

No previous experience is required. In addition, the reading system does not need codes or programming.
Our reading system needs approximately, according to the rim, up to 4 minutes and for turning, the maximum is, according to the rim, of another 4 minutes.

Simply start and indicate the end of reading. The sensor starts by laser and touch sensor making continuous readings. You can choose different cutting patterns such as fine flute, coarse, polished or diamond.
UP TO 50000 READINGS BY RIM
A conventional lathe with standard reading sensor makes a measurement of 1x1mm. Our system makes a continuous reading without pauses and performs a measurement of up to 28000 readings x mm.

This CNC lathe was developed for the repair of used tires. For this we have developed a sensor with which we can measure the sticks of the rim. If there is a stick that stands out, our system will detect it and give us a warning.
Bordillazos or scratches do not  present  any type of problem for our lathe.

Our specially developed lathe for the profiling of tires is capable of reading and turning up to 5 rims per hour. 
The RIDI13 CNC is operated through the touch screen and a control for the X / Z positions. The mode of emplyment is very simple and does not require specific traininng.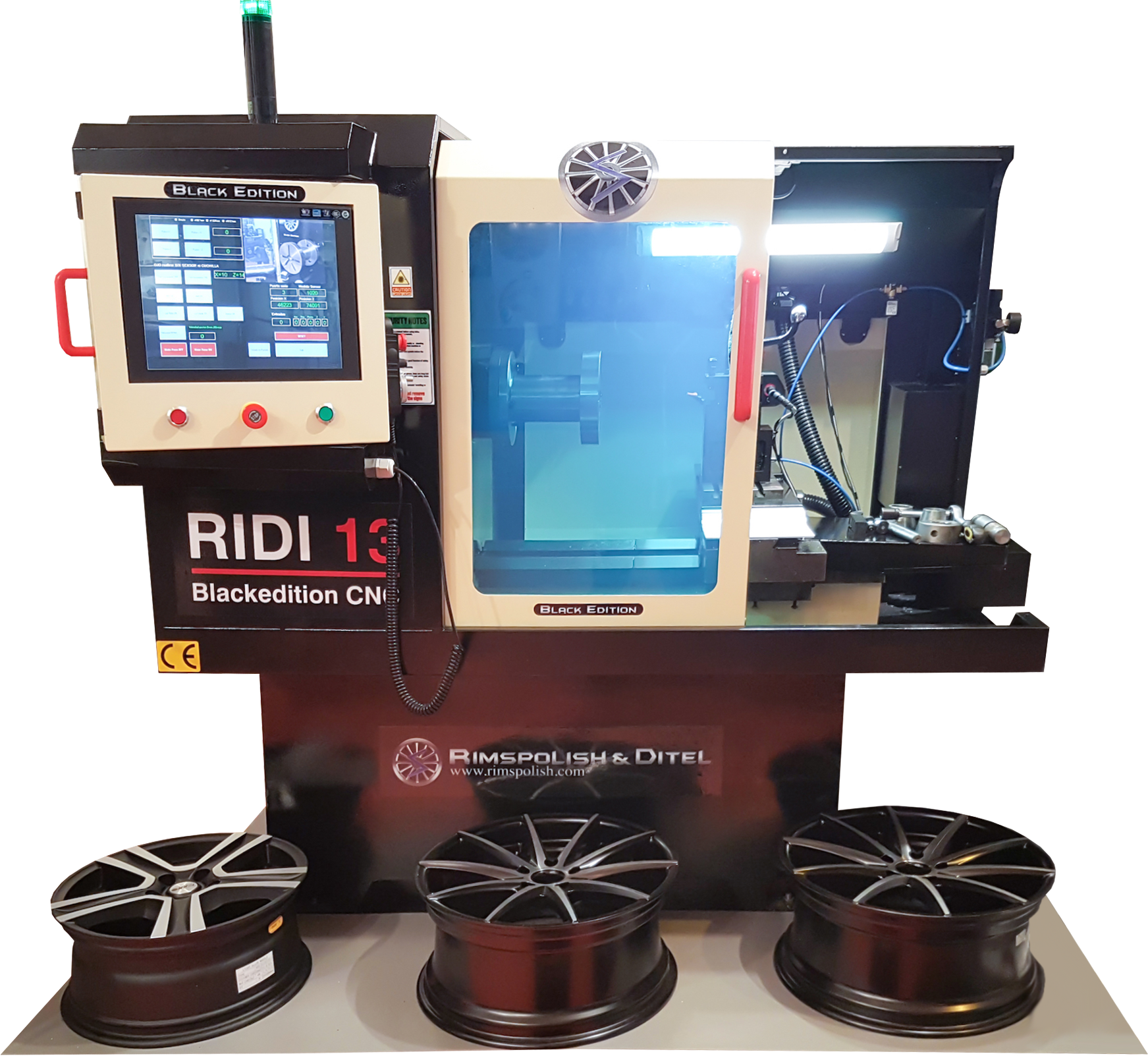 Technical data
---
● Courant: 3,5 kW 380V 50HZ
● X et Z Puissance du moteur: 1,2 kW / 1,8 kW
● Top speed: 0-2000 tr / min
● Industrial touch screen
● Software, plates and sensors manufactured in León (Spain)
● German quality high quality bladef
● Built-in computer
● Wifi
● Remote control board
● Installation according to CE and ISO9001 regulations

Characteristics
---
● Length x Width x Height: 1900 * 1150 * 1700mm
● Compatible with rims up to 27 «
● Net Weight: 1450kg

Courses
---
● A 1 or 2 day intensive course is offered at a tire repair shop.
● For more information contact by phone or by email
Sale of accessories:
We offer a large stock of accessories such as screens, blades, supports for blades, sensors, etc.
For more information, you can contact us through our hotline or by email.

Software
We are continually adapting to the tire market. The manufacturer often changes the tire models. This requires that we adapt to that demand. Therefore, our Software and development specialists are continually perfecting the Software and the electronic board.
Wendeschneidplatten
Description of the accessory 2 new.
Tourning tool
Tool for turning rims 2
Accesorios
Original screens
Important announcement
It is essential to read the safety manual and follow the instructions before operating the machinery.
Electric panels
In no case can electrical panels be opened or manipulate components of the machine.
Inappropriate use or manipulation
In the event of improper use or tampering, the warranty of the machine is canceled.

Internal computer
The CNC is equipped with an internal computer that records all network overloads, in addition to recording if the electronic boxes are handled.

Detects problem
It must be reported immediately if a problem is detected. To do this, you must call our Hotline line indicated in the section: contact.

Proper oil
It is necessary to use the indicated special oil, otherwise there is a risk of breakage in the drains of the X / Z axes.

Tire profiling
The CNC RIDI13 Blackedition is developed exclusively for the profile of tires.

Before using the CNC
In no case is it for turning welds, extreme bordillazos or pieces of any kind. These must be repaired before using the CNC

Inappropriate use
It is a very precise and high technology machine. Inappropriate use leads to the loss of the warranty.

In case of damage
In case of damage caused call technical support.
Monday – Friday from 09: 00h – 18: 00h
Tel. +34/619283401 /
Central Office Europe
Rimspolish SL
CEO – Mr. Marcos Gandara Cives
Email: info@rimspolish.com
Tel: +34 871575513
Can Calafat 36
07199 Polygon Son Oms
Palma de Mallorca Spain / Spain
Brillanta Factory
Rimspolish SL & Ditel SL
Tel: +34 619283401
General Highway of Valladolid n40
24227 Leon,
Spain / Spain
Exhibition and Training Center
Showroom & Trainingscenter
Europe Official Distributor of Rimspolish SL – Europe
Tel: +34 871575513
Technical service
Tel: +34 679 119 936
Can Calafat 36
07199 Polygon Son Oms
Palma de Mallorca Spain / Spain
Development Center
Rimspolish SL & Ditel SL
Tel: +34 619 283 401
Crta. Vilecha n33 Nave 4-5 24009 Leon,
Spain / Spain
Mr. Vicent
commercial for French language

Email: rimspolish.ditel.france@gmail.com
Tel: +34 659 75 45 67
France